Hello Everyone,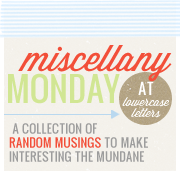 One) I'm glad to be feeling better.
I've had a bad cold or something for most of the last week and am finally getting over it. Maybe now I can get a start on some of the spring projects I intended to start last week. The bad thing is now I think my daughter is coming down with it.
Two) I have to make myself write.
I've had a blog for three weeks now and this is only my sixth post. No matter how scared I am to let other people read my writing I have to write more. I'm hoping to get 7 to 8 posts up in the next two weeks and hopefully not just posts that are part of Monday chains and posts about recipes.
Three) I'm grateful for Themed Post chains.
I'm so grateful for  Carissa Graham at lowercase letters for her Miscellany Monday and Sandra at Diary of a Stay Home Mom for her Happy Homemaker Mondays. Not only have a found a lot of great blogs through these two. But by giving me at least a little structure for a Monday post they have helped me start to break through my fear of writing for others to read.
Four) I'm reading A Deeper Kind of Calm for a review.
I'm reading it as part of NavPress' blogger review program. So far it's been very interesting. I'm hoping to get my review up by the end of the week.
Five) So far so good on my husband's new job.
Today was just his first day and he was in training today but he thinks he is going to like it, and we're both sure we are going to get to sleep a little later. A half hour doesn't seem like much but getting up at 6:15 AM is better than 5:45 AM. In case your wondering he didn't chance company's just got a new position at the company he already worked for.
Six) I need to get more work done on my website.
Not only do I need to post more often but I need to polish up the look of it and get some links up including some sort of Blog Roll. I've been hoping to get my husband's help but he's been pretty busy studying up for his new job.
Seven) Next time I need to include pictures.
I'll have to talk about something I can include pictures for next time I do a Miscellany Monday Post. I like the look of my posts better they get shortened for my home page better when they have a picture included. Of course I'll also have to plan my post a little better and get it up earlier in the day.
This was fun and I lot easier than I thought it was going to be.
I hope everyone who reads this has a great week.